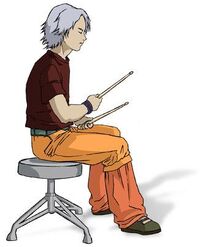 Chris is Jim's nephew and drummer in the band the Subdigitals (Chris says that they were renamed from the Subsonics), he made his first appearance in Opening Act when he came to Kadic looking for fresh new talent to use as the Subdigitals' opening act. After Chris auditions all the students in the school, Odd shows him Aelita's Demo Mix, which Chris believes is the talent he is looking for. After he is dragged into a fight with one of XANA's polymorphic spectres (imitating himself) he fights with Jim and helps Team Lyoko before his memory is erased by a return in time but Jeremie then hands Chris Aelita's mix personally and tells him where to find her.
Chris appears twice after Opening Act, in Crash Course where he judges the finalists with the other members of the Subdigitals and again in Music Soothes the Savage Beast where he perfomes at the concert after the opening act performed by Aelita. After that, no mention is ever made of him or his relation to Jim again. (His relation to Jim is questionable irregardless because both men appear to look the same age.)
Chris refers to Jim as "Uncle Jim."
Shows some fighting abilities.
Seems to be a key member of the Subdigitals as he says the record company will come down on him if he cannot find new talent.
Shows authority in the decisions of the group as shown in Crash Course.